MLS and USL season is nearly here and with that brings a crop of young American players who are trying to make a name for themselves. 2019 saw players like Paxton Pomykal, Brenden Aaronson, Jesús Ferreira, Julian Araujo, Bryang Kayo and others use their domestic seasons to ascend to new heights. With that in mind, I plan on highlighting a few players who I think will have a big 2020. My goal is to provide a prediction for each player and continue to track progress over the course of the season. Additionally, I will continue to add players who slipped under my radar and are making a large impact on the U.S. domestic system. Without further ado, here is my list of players who you should be paying attention to this season.
David Ochoa
The best way to summarize David Ochoa's last few years would be "growth". Over the last few years, Ochoa went from AC Brea in Fullerton, CA, to RSL Residential Academy in Casa Grande, AZ to a potential starter for Real Salt Lake at the age of 19. Last year was a hugely notable year for Ochoa highlighted by him starring in net for the USL Championship winners Real Monarchs as well as his showing at the U20 World Cup. While playing up a cycle, David got his first World Cup start in a 1-0 win over Qatar and it was his performance that helped keep a US clean sheet and push us on to the knockout rounds. He then proceeded to start in the Quarterfinals vs. Ecuador, a team that would finish the tournament in 3rd place. His ascent continued from there. Ochoa returned from the World Cup and resumed his strong form while splitting his time between Real Salt Lake and Real Monarchs ultimately leading the USL side to the championship.
David is nothing if not confident. He reads plays really well and is typically very quick off his line to snuff out opportunities for the opposing team. Check out his highlights from this year's USL Western Conference Championship and see how many times he is quick to beat the attacking team to a through ball. He's been doing that for years. Where he's showed vast improvement, in my opinion, is his play with the ball at his feet. He hits a number of solid outlet passes to wingers as El Paso attempted to press higher up the field. Where I'm hoping to see him improve this season is his general positional awareness. He's quite aware already, but there are some small lapses in his game, to my eye, where he sometimes loses track of his positioning (see Ecuador opener in World Cup). Still, his foundation currently is top GK in the youth system and clear USMNT potential. Remember, there's a reason why Manchester United was so steadfast on signing him that they built out a 5-year plan for his career.
2020 is a key year in David Ochoa's continued rise to the top. With Nick Rimando now retired the starting role between the sticks for RSL is up for grabs and many signs point to David Ochoa being the goalie to stake his claim. Moreover, it looks like he will ultimately be an option for the U.S. U23s as Jason Kreis builds his squad to qualify for Tokyo 2020.
2020 Prediction: 850 MLS minutes, 4 clean sheets
Jose Gallegos (USL)
Has there been a single eligible youth national team player in the domestic system who has risen quicker than Jose Gallegos? Probably not. He went from an obscure teenager who signed an academy contract with his local club to who I now consider the best domestic '01 midfielder. As of this morning, Jose Gallegos was committed to NC State and on his way to ply his trade in the ACC. That all changed when San Antonio announced this afternoon that they have inked Gallegos to a multi-year professional deal. This is a big deal for the club as they lock up an A+ talent and protect their opportunity to sell him for a major profit, and there will be bids.
Last season, Jose Gallegos featured for SAFC 16 times scoring one goal, providing one assist, and creating 11 assists. While those stats might not jump off the page, his play does. Watch the video below for a taster of his ability on the ball. He is decisive, always. While he is not the tallest, he is very sturdy and uses his center of gravity really well to turn off of defenders and glide into open space. This ability is aided by an exceptional command of the ball – his touches are rarely wasted. He's also tough as nails and presses like a madman which is almost the most endearing aspect to his game. I would love to wax poetic about Jose for thousands of words but I'll leave it at this: It's a big year for the San Antonio native one in which I expect him to live up to.
2020 Prediction: 1400 USL minutes, 5 goals & 7 assists
Leo Torres (USL)
Watch this space. San Antonio FC are doing an amazing job with their academy which is producing top tier talents. The cream of the crop so far is '04 Leo Torres a player who, at 15 years old, made his professional SAFC debut last season. While that was his only involvement last season, I expect him to take a big step this year as he is currently on a pro deal with the USL Championship club.
Leo's best attributes include his exquisite first touch and his propensity for quick combination play which are outlined in this great thread by Belz below. Watch for how confident Torres is with his first touch AND his first pass. He typically has his mind made up before he even receives the ball. He also shows a dribbling ability similar to his SAFC compatriot, Jose Gallegos.
Additionally, Leo will be a key patrolling the left wing throughout the next U17 cycle. For fans of the U.S. Youth National Team programs, make sure to mark down San Antonio FC matches on your calendar as you'll be likely to see two of the best YNT talents in the country wreaking havoc on the field together.
2020 Predictions: 600 minutes, 1 goal/3 assists
Moses Nyeman
Moses Nyeman has long been considered the best American '03, full stop. Fresh off a training stint with Borussia Dortmund and Mainz 05, Nyeman returned to the U.S. this January to stake his claim in D.C. United's first team after signing a Homegrown deal in 2019.
I'm going to say something out of pocket so bear with me, Moses Nyeman often reminds me of Frenkie de Jong. While Nyeman doesn't yet offer the same on-the-ball elusiveness as de Jong, he does show similarities in how de Jong retains the ball with both simple and deceptive progressive passing. This also poses a key area to watch in 2020, the speed of play in Major League Soccer will be quicker than USL Championship, so Moses will need to tailor his game to match that speed.
As far as I know, Moses is not yet eligible to represent the United States in official competition. Expect him to feature heavily for the Red, White, and Blue whenever he is eligible.
2020 Prediction: 800 minutes controlling the movement of the ball in the midfield and making me dream. 
John Tolkin
It's arguable that John Tolkin has the best left foot and puts in the best ball in his year ('02). The left-back spent 2019 with NYRB2 making 13 appearances and providing 4 assists and nearly played his way onto the U17 World Cup squad. All of this culminated with him signing an HG contract in January of this year. Tolkin has shown well in preseason and may be in line for a starting role now that Red Bulls have sold Kemar Lawrence. Moreover, NYRB is a club that continually shows they are unafraid to give young players an opportunity. What's more is that generally, NYRB is built in a way that should allow Tolkin to thrive. Both Brian White and Tom Barlow are two strong center forwards who will be hoping to feast on John Tolkin crosses all season. I'll still be conservative in my predictions for John this season, but I wouldn't be surprised if he manages to win a starting role at some point throughout the season.
2020 Prediction: 900 minutes, 1 assist
Bryce Duke
2020 has started strong for 18-year-old Bryce Duke. On January 26th of this year, LAFC sent $50,000 in GAM to RSL to purchase the HG rights of the young midfielder. Duke was immediately trusted in a friendly vs. Peñarol. That trust was heightened when Bob Bradley threw Duke on in Concacaf Champions League as LAFC was in search of an equalizer away to Club Léon. All things considered, the U20 WC eligible Arizonan showed well for Bob and Co. He was energetic in the press and generally pretty clean and composed on the ball. That was highlighted during this moment late in the match.
That kind of trust should be something that piques your interest in Bryce Duke. While I'm not sold on his long term International potential, I'd be open to eat crow if Bob Bradley can grow Duke to that level. Keep your eyes on LAFC and Bryce Duke.
2020 Predictions: 600 minutes, 2 goals, 1 assist 
Caden Clark (USL)
Caden Clark might be the diamond of a very deep '03 midfielder class. Despite a bidding war of sorts between seemingly every MLS club and big clubs in Europe, such as Barcelona, Leipzig, and Wolfsburg, Clark ended up signing with NYRB2. It is not out of the question to expect Caden to be on a similar upward trajectory that Tyler Adams experienced.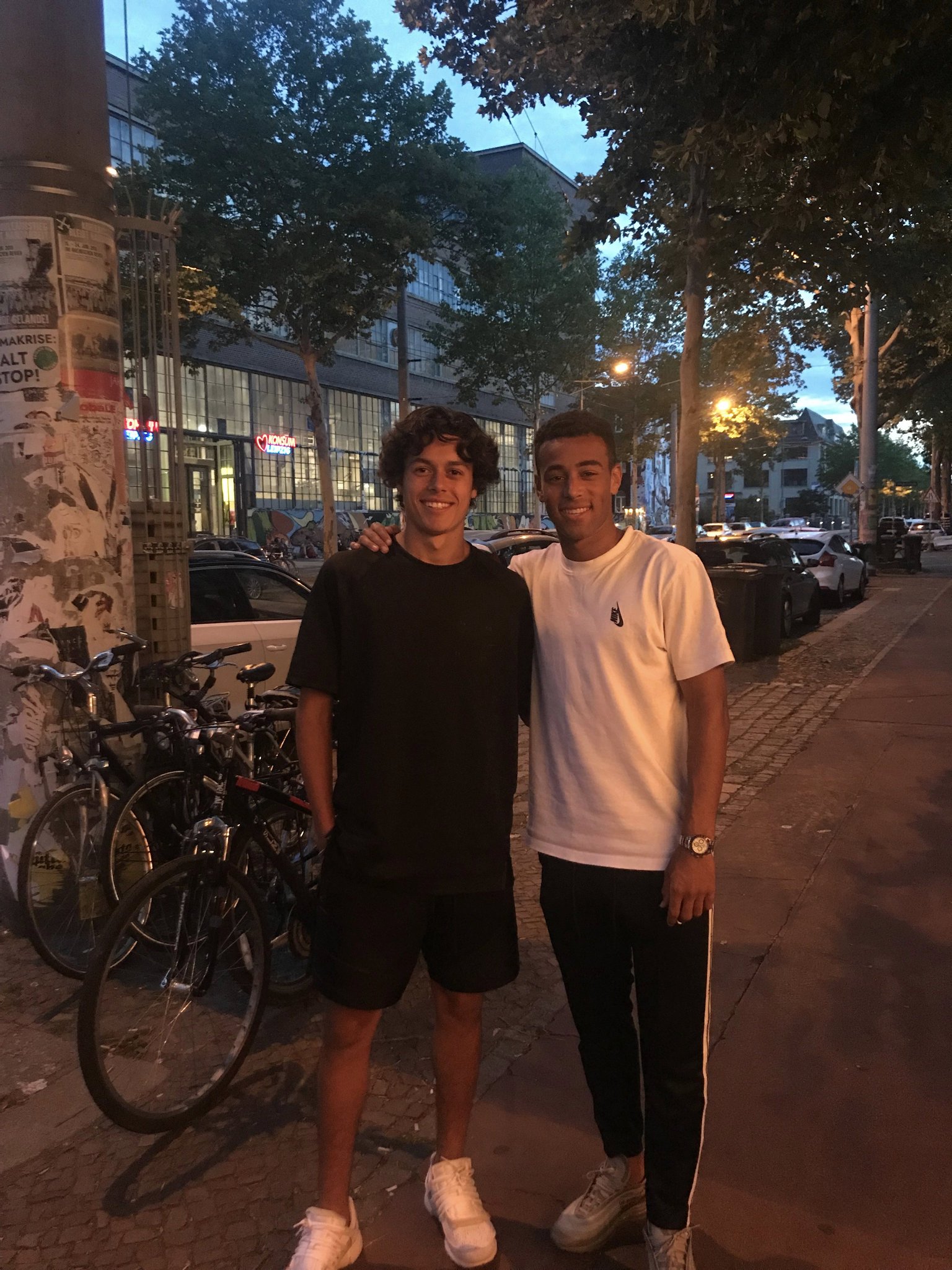 Clark like others mentioned is extremely energetic on both sides of the ball. But where I find him most impressive is his speed of play. He is extremely smart always playing a step or two ahead of his opposition both with and without the ball. Additionally, he possesses A+ combination play especially in the final 3rd of the field. Caden has room to grow obviously, but I expect NYRB to give him that room and provide him a program to cultivate his abilities.
2020 Prediction: 1800 minutes, 4 goals, 4 assists & signs a homegrown contract as soon as he is eligible. 
Ricardo Pepi
To even the most basic fans of the U.S. Youth National Team system, Ricardo Pepi is a well-known prospect. However, the reason I've decided to highlight him here is that I believe he will have a breakout season with FC Dallas this year. He's been a mainstay for Luchi Gonzalez' side in preseason scoring a couple of goals and reports seem to believe he will start opening weekend vs Philadelphia. A start he has earned after his 2019 where he scored 11 goals and provided 2 assists over during his time with USL League One champions North Texas SC.
Pepi is, without a doubt, the best U20 eligible striker. He is excellent in his ability to combine from the number 9 position. He's got a hammer of a right foot and is a strong passer. Moreover, even for a taller player, he has very technical and soft feet which help him control the ball under pressure when needed. At the age of 17 Ricardo Pepi is already one of the more technical #9's in our pool. If there's any young American to break out at the highest domestic level, it will be him.
2020 Prediction: 1800 minutes, 7 goals, 4 assists
Hayden Sargis (USL)
I believe that Hayden Sargis is flying well under the radar. The '02 center back has staked a claim in the backline for Sacramento Republic, a club that has produced some quality academy products but has yet to break them into the first team.
Hayden possesses an elite ability to close down play, he is fairly close to a lockdown defender who hardly bites on attackers and is comfortable playing the diagonals with either foot. In the modern game though, I'd like to see if he can add the ability to carry the ball forward from the center back position. He certainly has the athleticism to beat midfielders, but I'd like to see if he has the confidence to attract pressure from midfielders when he has the ball at his feet. Hayden's progression this season should come as welcomed development for all USYNT fans as center back is a position of need for this U20 cycle. I would not be surprised to see Hayden break into the fold ahead of U20 WC qualifying later this year.
2020 Predictions: 1500 minutes, 5 clean sheets
All in all, while the domestic system is beginning to produce top-tier, world-renowned talent, such as Gio Reyna and Tyler Adams, it's some of those who are flying under the radar who are making me the most excited. At the end of the day, soccer in itself is about the sum of its parts and I believe that 2020 will be a year where we start to see the total strength that our parts can achieve.